Soil chemistry facts you'll dig; Plus a free student handout from AccessScience
Unearth the science behind soil to introduce students to various STEM concepts, including soil formation, classification, and mapping; and physical, chemical, biological, and fertility properties.
Access to this content is available to Ward's World readers for free from McGraw Hill's AccessScience, an award-winning, digital STEM resource containing exclusive articles written by expert scientists and engineers; biographies of well-known scientific figures; science news, videos, and animations; and much, much more.
Instructors can use AccessScience to guide students on their research project journeys, to help students understand scientific concepts, to support distance learning efforts, in flipped classroom approaches, and in countless other ways.

Ward's World and AccessScience have partnered to offer educators a no-obligation, free trial subscription to AccessScience. Request your free trial today to discover how valuable AccessScience can be for you and your students! Get your free trial now.
---
The team at Ward's World is excited to make available this powerful series of science articles from McGraw Hill's AccessScience. This unique series fits our mission to find ways to bring you tips, ideas, and resources to help inspire students and guide discovery and learning. Look for a new McGraw Hill's AccessScience article to be posted each month on Ward's World.
Want to prepare lessons on soil with a lot less toil? Scoop up these key concepts on soil chemistry to put the future scientists in your classroom on firm ground.
So, what is soil? Soil is the thin layer of material covering the Earth's surface and is formed from the weathering of rocks. It's made up mainly of mineral particles, organic materials, air, water, and living organisms.
Unearthing the science behind soil introduces students to various STEM concepts, including soil formation, classification, and mapping; physical, chemical, biological, and fertility properties of soils; and the relationship these properties have to soil management.
Most people don't realize the significant role soil plays in our ecosystem. Soil influences the worldwide distribution of plants, animals, and people. It filters our water, provides essential nutrients to our forests and crops, and helps regulate the Earth's temperature and many of the important greenhouse gases. It even supplies most of the antibiotics used to fight diseases.
The nature lovers in your class will enjoy getting their hands dirty when exploring all the ways soil supports life. While they're at it, make sure they check out the activities in our post Get the dirt on gardening, to inspire their natural curiosity about the world around them. They'll really dig these activities:
Soil is Alive, Kids Gardening
In this lesson, students explore the many organisms that call soil home.
Experiment with Composting
In this experiment, your students will add two of the main ingredients needed for composting.
Rain Gardens, Kids Gardening
In this lesson, students design their own rain gardens to learn about the water cycle, stormwater drainage, water quality, and the broad environmental impact of urbanization.
Download the McGraw Hill's AccessScience article on soil chemistry above to share with your students; it has mounds of in-depth, comprehensive facts to support your lesson plans. The free download also includes assessment questions and answers you can use to test student understanding. If you've been looking for the perfect soil science resource, you've hit pay dirt!
Download McGraw Hill's AccessScience Teacher Answer key for this article here.
---
For more ways to explore this topic in your classroom, check out these recommended materials:
[StartProductBlock]
Field Guide for Soil & Stratigraphic Analysis Chart
Enhance soil and sediment descriptions. Improve the accuracy of logs and classification of soils in the field using this field guide.
[EndProductBlock]
[StartProductBlock]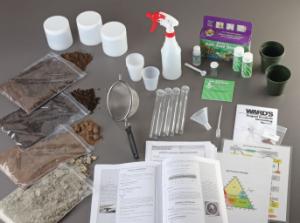 APES Lab #1: The Soil Factor: How Does Your Garden Grow?
Students examine the role of soil and soil dynamics in our environment in this comprehensive introduction to soil properties and classification methods. They explore soil texture, porosity, soil nutrients, soil moisture, and holding capacity, and the impact these factors have on growing plants.
[EndProductBlock]
[StartProductBlock]
Ward's® Introductory Mineral Collection
Beginning geology students will easily recognize each of the wide range of physical properties when they examine the basic minerals. High-quality specimens, cut by Ward's geologists.
[EndProductBlock]