Water Science; Plus a free student handout from AccessScience
Help students understand the formation, states, and chemical properties of water.
Access to this content is available to Ward's World readers for free from McGraw Hill's AccessScience, an award-winning, digital STEM resource that provides immediate, authoritative answers to students' thirst for scientific knowledge on topics such as climate change, virology, pollution, and more. Ward's World and McGraw Hill have partnered to offer educators a no-obligation, free trial subscription to this product. Request your free trial today and discover how valuable AccessScience can be for you and your students.
---
High School
Biological life on Earth depends on water; without water and its unique properties, life as we know it would be impossible! In fact, humans can survive weeks without food, but most people can only survive 2 to 4 days without water.
The hydrosphere is the total amount of water on a planet; on Earth, it encompasses all water from glaciers and ice to rivers and oceans. While life is dependent on water, 97% of the Earth's water is saltwater, making it virtually unusable. The salty oceans cover more than 70% of the planet, while freshwater is frozen, underground, or on the surface in ponds, streams, rivers, and lakes.
How does water move through the hydrosphere?
The water cycle moves water within the hydrosphere—water changes in form throughout the process. The sun's energy evaporates water, mainly from the oceans. The water becomes vapor and forms clouds. It then condenses and falls back to Earth as rain or snow. Falling water (precipitation) fills lakes and forms rivers. Water collects in these reservoirs and begins the cycle all over again. Up, down, and all-around water is constantly moving, changing, and being reused.
Your students will take to these water cycle basics like a duck to water!
Download McGraw Hill's AccessScience article, Water, to develop your lesson plans that help students understand the formation, states, and chemical properties of water. The free download also includes assessment questions and answers you can use to test student understanding.
---
Recommended Products
[StartProductBlock]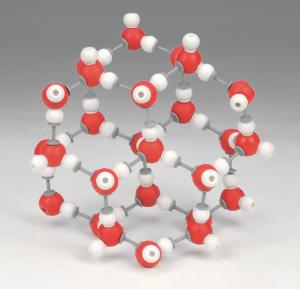 Ward's® Chemistry Molecular Lattice Water Model
Students learn about atoms and molecular structure with this colorful model that demonstrates the atomic composition of water.
[EndProductBlock]
[StartProductBlock]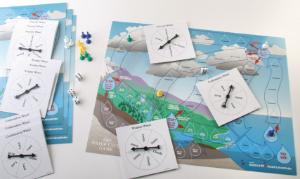 Water Cycle Game
Students flow through the various components of the water cycle on their way back to the ocean. Entertain while educating about the hydro-logic of porosity and groundwater versus land runoff.
[EndProductBlock]
[StartProductBlock]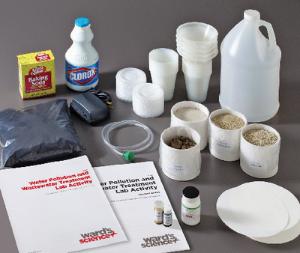 Water Pollution and Wastewater Treatment Lab Activity
Students explore methods to treat wastewater by creating a laboratory model that simulates large-scale commercial water treatment methods.
[EndProductBlock]