Facts on Respiratory Virus Detection; Plus a free student handout from AccessScience
Help students explore methods used by "Disease Detectives" in virology labs to detect respiratory viruses.
Access to this content is available to Ward's World readers for free from McGraw Hill's AccessScience, an award-winning, digital STEM resource containing exclusive articles written by expert scientists and engineers; biographies of well-known scientific figures; science news, videos, and animations; and much, much more.
Instructors can use AccessScience to guide students on their research project journeys, to help students understand scientific concepts, to support distance learning efforts, in flipped classroom approaches, and in countless other ways.

Ward's World and AccessScience have partnered to offer educators a no-obligation, free trial subscription to AccessScience. Request your free trial today to discover how valuable AccessScience can be for you and your students! Get your free trial now.
---
Middle/High School
When disease outbreaks like respiratory viruses or other health-related situations occur, epidemiologists (aka Disease Detectives) are on the scene to investigate. Disease Detectives search for the cause of disease, identify people at risk and determine how to control, stop, and prevent the spread. 1 Physicians, veterinarians, scientists, and other health professionals often train to be "Disease Detectives" .1
Like crime scene investigators, epidemiologists begin by looking for clues. Microscopes are an essential tool these lab detectives use to gather scientific evidence about viruses, whether they're using traditional methods or the more advanced molecular diagnostics. That's why microscopes are a powerful instrument that students will be excited to learn about and use, just like the Disease Detectives!
What is a compound microscope?
No introductory lesson on microscopy is complete without a description of the compound microscope. A compound microscope is an optical instrument that uses an objective lens with a very short focal length and an eyepiece with a longer focal length mounted in the same tube to obtain magnified images of small objects. The use of a compound objective/eyepiece combination allows for much higher magnification. Magnification by compound microscopes typically ranges between 40x-1000x vs. a stereo microscope's 10x-40x magnification. A compound microscope also differs from a stereo microscope in that it provides a two-dimensional image instead of a three-dimensional one.

Microscopes help students investigate things that are too small for the eye to see, from everyday objects like a human hair to the fascinating anatomy of the planaria. As students prepare to explore objects and organisms that can be viewed with a microscope, they must get familiar with all the parts of the tool, as shown in fig. 1. From the ocular lens to the light source, science teachers find lessons on microscope parts extremely engaging and interesting to their students, as many have never used one before!
Once students understand microscope basics, they can dig deeper to learn how researchers use more powerful instruments like electron microscopes to view infectious viruses like SARS coronavirus, including its "corona" or crown formed by a single surface protein.

Download McGraw Hill's AccessScience article, Detection of Respiratory Viruses, to help your students explore methods used by virology laboratories to detect respiratory viruses. The comprehensive article covers timely concepts such as viral respiratory tract infections caused by viruses, including influenza viruses, parainfluenza viruses, coronaviruses, and adenoviruses.
---
References: 1. Centers for Disease Control and Prevention
Recommended products:
[StartProductBlock]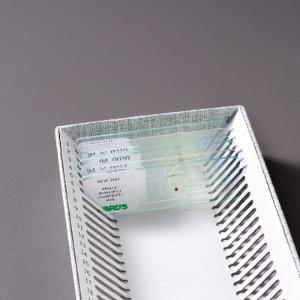 Exploring With a Microscope I Slide Set
Promote microscope usage skills while introducing a variety of microscopic structures. Includes housefly, sponging mouthparts; salt crystals; dust; computer chip; cork (sect); and letter "e".
[EndProductBlock]
[StartProductBlock]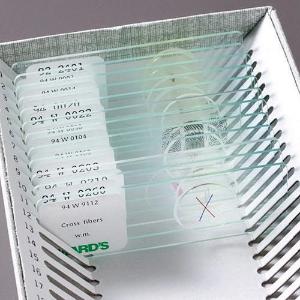 Exploring With a Microscope II Slide Set
View familiar objects and materials at the microscopic level. All slides are whole mounts. This set comes with an illustrated study guide.
[EndProductBlock]
[StartProductBlock]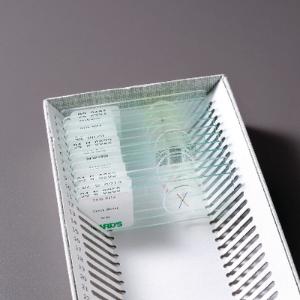 Exploring With a Microscope III Slide Set
Examine intricate everyday items under the microscope. Set includes Drosophila; salt crystals; dust; computer chip; newsprint; fingerprints; sawdust; cornstarch; cork (sect); human hair; air pollution; and cross-colored threads.
[EndProductBlock]
[StartProductBlock]
Human Respiratory System Models
Various human respiratory system models with hand-painted heart, lungs, and other removable parts that include the larynx, windpipe, esophagus, and diaphragm are available.
[EndProductBlock]
[StartProductBlock]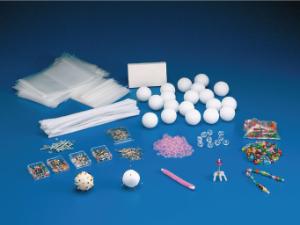 Virus Modeling Kit
An interdisciplinary kinesthetic lab where students build models of 5 different viruses: tobacco mosaic, mumps, influenza, potato X, and a bacteriophage. Teaches the diversity of structure of different viruses.
[EndProductBlock]