Fingerprints and Personal Identity; Plus, Free Student Activity
High School

Any super sleuth worth their salt knows that a high-quality dactylogram (aka fingerprint) is essential to cracking criminal cases. Fingerprint identification has revolutionized forensic science and personal identification. From crime scenes to unlocking smartphones, fingerprints have proven reliable and unique identifiers. Your lesson plans can help the students in your class put their finger on the principles and techniques that make it possible.
We're happy to lend a hand by providing these fascinating facts about fingerprint science:
The Basics of Fingerprint Formation:

Each person's fingerprints are formed during fetal development and remain unchanged throughout their lives.
The ridges and patterns on our fingertips are influenced by genetic factors and environmental conditions in the womb—the density of the amniotic fluid and the fetus's size, location, and movement patterns. The pattern of fingerprints established by 19 weeks remains consistent as the baby grows.1 Once born, our fingerprints get bigger as we grow, but the pattern stays the same!
The three main fingerprint patterns are loops, whorls, and arches, each with distinct characteristics.

Uniqueness and Individuality:

No two individuals have the same fingerprints, not even identical twins. Students may do a double-take after learning that!
The uniqueness of fingerprints lies in the intricate ridge patterns, ridge endings, bifurcations, and other minutiae.
Even though there are billions of people in the world, the chances of finding two identical fingerprints are incredibly remote—less than one in 64 billion. According to a science journalist in Britain, based on those odds, it would take more than a million years for two people with identical fingerprints to appear by chance in Scotland Yard's fingerprint database.2

Classification Systems:

Fingerprint experts use classification systems to categorize fingerprints based on their ridge patterns.
The Henry Classification, National Crime Information Center (NCIC), Automated Fingerprint Identification Systems (AFIS), and Integrated Automated Fingerprint Identification Systems (IAFIS) are systems for organizing and searching fingerprint databases.
AFIS and IAFIS have revolutionized fingerprint identification. These systems use computer algorithms and pattern-matching algorithms to search and compare vast databases of fingerprints, significantly speeding up the identification process. Watch out, crooks; the detectives are hot on your trail!

The Science of Fingerprint Analysis:

Fingerprint analysis involves two main processes: ridge pattern identification and ridge comparison.
Ridge pattern identification classifies fingerprints into different categories (loops, whorls, arches) and subcategories for further analysis.
Ridge comparison focuses on matching the unique characteristics, such as ridge endings and bifurcations, to establish a positive identification—the literal whodunit stage of crime fighting!

Techniques for Fingerprint Collection:

Fingerprint collection methods include traditional ink and paper techniques and modern digital methods.
Ink and paper involve rolling the fingertip on an ink pad and transferring the print onto a paper card. Not to be confused with the signature "finger roll" move made famous by former NBA star George "the Ice-man" Gervin!
Digital collection methods use scanners to capture high-resolution images of fingerprints. Terminology can be confusing because "digital fingerprinting" identifies internet users by their browser settings and device characteristics. It involves matching your online activities to identity markers or "fingerprints."

Developing and Enhancing Latent Prints:

Latent prints refer to hidden, invisible fingerprints left at crime scenes.
Various techniques, such as dusting with fingerprint powder, using chemical reagents, or applying superglue fuming (aka Cyanoacrylate), can reveal and enhance latent prints for analysis.

Applications Beyond Forensics:

Fingerprint identification extends beyond crime scenes and forensics. It is widely used for secure access control, biometric authentication, and even mobile device unlocking.
The integration of fingerprint scanners in various devices has enhanced security and convenience in our daily lives.
Fun Fact: The value of fingerprints in forensic science is based on Locard's exchange principle: a person always leaves something behind (and takes something with them) every time they interact with the environment. Named after Edmond Locard, a forensic science pioneer.
Fingerprint identification is a fascinating field that blends biology, chemistry, and technology to uncover the unique patterns that make each of us distinct. Use your lesson plans to inspire the next generation of scientific minds who may contribute to advancements in fingerprint identification and forensic science. Tap into their inner CSI!
Download the Fingerprint Identification Activity so students can take their own fingerprints and analyze patterns, loops, whorls, etc.
---
1. Charlotte Lozier Institute: When and How Fingerprints Form 2. BBC Science in Focus: Why do identical twins have different fingerprints?
Recommended Products
[StartProductBlock]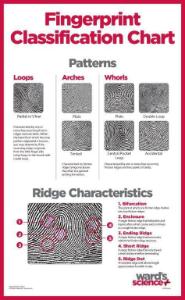 Ward's® Fingerprint Classification Chart
Display detailed images and definitions of various fingerprint patterns. Shows loops, arches, whorls, and friction ridge characteristics.
[EndProductBlock]
[StartProductBlock]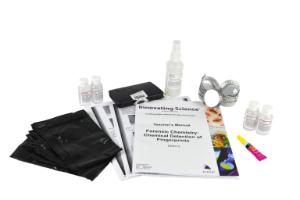 Forensic Chemistry: Chemical Detection of Fingerprints Kit
Learn to identify fingerprint types, fingerprint fuming, and chemically developing fingerprints. Includes fingerprint analysis, ninhydrin development, and cyanoacrylate fuming.
[EndProductBlock]
[StartProductBlock]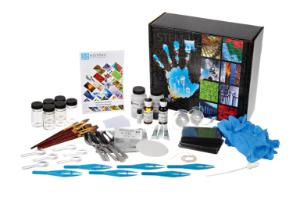 Fingerprint Analysis Lab Activity
Students will answer the question "whodunit?" while learning how to dust and develop latent fingerprints.
[EndProductBlock]