Animal Evolution; It's About Time! Plus a free handout from AccessScience
Access to this content is available to Ward's World readers for free from McGraw Hill's AccessScience, an award-winning, digital STEM resource that provides immediate, authoritative answers to students' thirst for scientific knowledge on topics such as climate change, virology, pollution, and more. Ward's World and McGraw Hill have partnered to offer educators a no-obligation, free trial subscription to this product. Request your free trial today and discover how valuable AccessScience can be for you and your students.
---
High School

In a previous post, Dig Deep into Paleontology, we explored how fossil records reveal rock-solid clues about animal species that existed millions of years ago on Earth. The concepts of evolutionary biology and their relationship to phylogeny (the genealogical history of organisms, adaptation, and speciation) were established by Charles Darwin. Fossils are a great starting point to help the future scientists in your class learn about Darwin's work and assess evidence of evolution. Don't forget to encourage backyard naturalists to keep field notes in laboratory notebooks to record and reflect on their fossil investigations, activities, and observations.
Evolution can be a difficult concept to wrap our primate brains around: it deals with random, unlikely events carried out over eons. Because evolution is so slow, it can't be observed while it's happening. But the evidence is all around us–in fossils, our genes, and the relationships between all living creatures.
Your lesson plans help students learn how fossils trace genetic traits through their family trees and discover if acquired traits are passed along to future generations. Then, as students' curiosity evolves, they'll be inspired to investigate the evolution of the major animal phyla from the first primitive cells to the transformation of genetic traits of a species over time by the natural selection processes.
According to the UC Museum of Paleontology at Berkely, when reading a phylogeny, it is important to keep three things in mind:
Evolution produces a pattern of relationships among lineages that is tree-like, not ladder-like.
It's not uncommon for people to misinterpret phylogenies as implying that some organisms are more "advanced" than others; however, phylogenies don't imply this at all. Just because we tend to read phylogenies from left to right, there is no correlation with the level of "advancement."
For any speciation event on a phylogeny, the choice of which lineage goes to the right and which goes to the left is arbitrary.
Download McGraw Hill's AccessScience article, Animal Evolution, to shine a light on the incredible process by which animal descendants come to differ from their ancestors. The free download also includes assessment questions and answers you can use to test student understanding.
---
Recommended Products
[StartProductBlock]
Immunology and Evolution Experiment Kit
Teaches students how to determine the evolutionary closeness of organisms based on antigen-antibody blood analysis.
[EndProductBlock]
[StartProductBlock]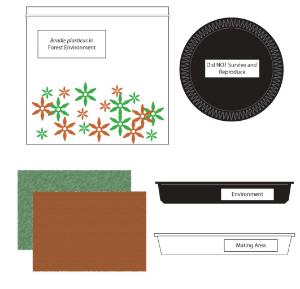 Science Take-Out® Beadle Plasticus Evolution
Investigate the changes in a population of "Beadle plasticus" in different environments.
[EndProductBlock]
[StartProductBlock]
Lab-Aids® Natural Selection and Antibiotic-Resistant Bacteria Kit
Students re-create the interactions of antibiotics with bacteria populations. Students observe the selection of more-resistant bacteria if antibiotic treatment is intermittent or discontinued.
[EndProductBlock]