15 Hands-On Chemistry Activities To Do at Home or School
Check out 15 of our most popular chemistry activity downloads in one convenient place. Covers classroom or distance-learning lessons.
Fill form to unlock content
Error - something went wrong!
Get all 15 Free Activities
You're in! Thanks for subscribing.
All Grades
Download, save and print these standards-aligned chemistry activities for use in your lab. Each activity has our triple "E" rating: Easy, Exciting, and Educational!
All you need to do is gather a few standard lab supplies to get your class started on these mind-blowing science activities. Each activity helps students expand their chemistry horizons—from endothermic reactions to super-absorbent polymers to chemiluminescence. Download all 15 with one click above, or choose individual activities below.
Students will discover answers to questions like:
What are the properties of transition metals?
What causes pressurized cans to explode?
How do you make disappearing ink?
What would happen if you put a drop of water on a pile of hydrophobic sand?
What are examples of exothermic and endothermic reactions?
Whether in the classroom or their rad lab at home, you'll find the right activity to inspire your students and guide their discovery and learning.
You can also check out more details of each activity below.
Download the activities and explore all these topics with your students!
Be sure to share these activities with your colleagues so they don't miss anything.
Recommended products:
[StartProductBlock]
Ward's Custom Kit Solutions
Ward's Science will source, organize, label, package, and ship your materials your way so you or your students can easily purchase all required lab materials in one convenient kit.
[EndProductBlock]
[StartProductBlock]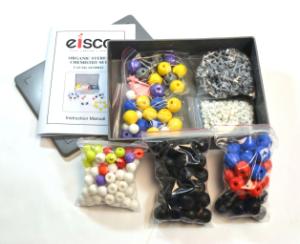 Ward's® Organic Stereo Chemistry Molecular Model Set, 364 Pieces
170 colored spheres representing carbon, hydrogen, nitrogen, oxygen, sulfur, phosphorus, fluorine, bromine, iodine and metal elements with 12 orbitals.
[EndProductBlock]
[StartProductBlock]
Ward's AP Chemistry Investigations 16 Kit Bundle
16 activities in one. Enough materials for 30 students working in pairs
[EndProductBlock]
[StartProductBlock]
Distance Learning: Introduction to Chemical Properties
Students identify chemicals and learn the impact different chemicals can have when added to various solutions.
[EndProductBlock]