Nanotechnology, it's a small world! Plus a free handout from AccessScience
Access to this content is available to Ward's World readers for free from McGraw Hill's AccessScience, an award-winning, digital STEM resource that provides immediate, authoritative answers to students' thirst for scientific knowledge on topics such as climate change, virology, pollution, and more. Ward's World and McGraw Hill have partnered to offer educators a no-obligation, free trial subscription to this product. Request your free trial today and discover how valuable AccessScience can be for you and your students.
---
High School
Nanotechnology is science, engineering, and technology conducted at the nanoscale, about 1 to 100 nanometers. Even the itsy, bitsy spider would be impressed by the spectacularly small scale of nanotechnology!
Miniaturization has come a long way, baby:
This evolving field presents profound opportunities for previously unimaginable advancements in environmental management, medicine, space travel, manufacturing, defense, and more!
What are real-world examples of nanotechnology?
The students in your class will love learning the mind-blowing ways molecule-sized machines and processes affect their everyday lives.
Some nanotechnology-enabled products1 students may be interested in learning more about include:
Additives to or surface treatments of fabrics providing lightweight ballistic energy deflection in personal body armor or wrinkling, staining, and bacterial growth resistance.
Clear films on eyeglasses, computer and camera displays, windows, and other surfaces to make them water- and residue-repellent, antireflective, self-cleaning, and resistant to ultraviolet or infrared light, fogging, microbes, and scratches.
Ultra-high-definition displays and televisions that use quantum dots to produce more vibrant colors while being more energy efficient.
Better imaging and diagnostic tools in healthcare creating opportunities for earlier diagnosis, more individualized treatment options, and better therapeutic success rates.
Many new kinds of batteries that are quicker charging, more efficient, lighter weight, have a higher power density, and hold electrical charge longer.
An epoxy containing carbon nanotubes that makes windmill blades longer, stronger, and lighter weight than other blades, increasing the amount of electricity that windmills can generate.
A thin film membrane with nanopores for energy-efficient desalination. This molybdenum disulfide (MoS2) membrane filtered two to five times more water than current conventional filters.
Nanoscale size skincare ingredients to provide better UV protection, deeper skin penetration, long-lasting effects, increased color, finish quality, and more.
These examples are just the microscopic tip of the iceberg. Nanotechnologies are among the fastest-growing areas of scientific research. Pose this question to your class: "Isn't it ironic that something so small is expected to have such a big impact on every aspect of our lives?"
Download McGraw Hill's AccessScience article, Nanotechnology, to develop your lesson plans that help students understand the objectives, principles, and applications of nanotechnology. The free download also includes assessment questions and answers you can use to test student understanding.
---
1. National Nanotechnology Initiative
Recommended Products
[StartProductBlock]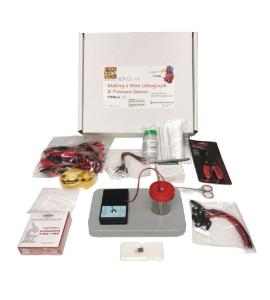 Making a Wire Lithograph and Pressure Sensor Nanotechnology Kit
A revolutionary nanotechnology manufacturing technique to grow nanoscale and micro-scale copper wires.
[EndProductBlock]
[StartProductBlock]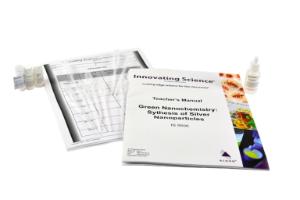 Green Nanochemistry: Synthesis of Silver Nanoparticles
Students synthesize silver nanoparticles from silver nitrate to observe different physical and chemical properties than the same materials prepared on a larger scale.
[EndProductBlock]
[StartProductBlock]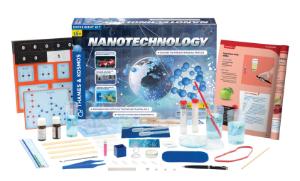 Nanotechnology Kit
The intangible, nanoscopic world becomes accessible with hands-on experiments using scaled-up models and real nanomaterials.
[EndProductBlock]
[StartProductBlock]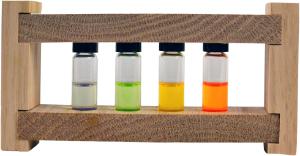 Ward's Quantum Dots Kit
A preassembled rack of four different quantum dots to help teach and illustrate nanotechnology and quantum mechanics.
[EndProductBlock]