3-in-1 Butterfly Power Pack
Elementary / Middle School
Grow, evolve, and transform your lesson plans with our most popular butterfly resources—all in one place. A single lesson plan can have, well, a butterfly effect on students' interest in other areas of biological research, including navigation, pest control, embryology, mimicry, evolution, genetics, population dynamics, and biodiversity conservation.
The 3-in-1 Power Pack includes:
Use this free printable worksheet to teach butterfly life cycles.
Butterflies are an easy resource to use in the classroom and are perfect for hands-on learning. It's easy and exciting for students to learn about the concept of life cycles when they can see it unfold before their eyes. Download our free printable worksheet along with the answer key to help you teach butterfly life cycles. It's a great resource to use when students raise Painted Lady butterflies in the classroom. It even includes a butterfly vocabulary and labeling activity.
2. Get 9 facts you may not know about Painted Lady Butterflies and how to use them in the classroom.
Raising Painted Lady butterflies isn't just a great hands-on demonstration of the butterfly life cycle; it's also a way to help students learn a range of fascinating concepts like migration, photonic crystals, biopolymers, insect endocrinology, and more!
3. Discover How to cultivate and care for your butterfly larvae.
This resource includes eight steps to properly cultivate and care for live Painted Lady Butterflies in your classroom. It also has links to more detailed information on caring for Painted Lady Butterflies and larvae.

If you have questions or need additional support, we're always here to help from our science labs to yours. Email sciencehelp@vwr.com to speak with a live materials lab technician or contact our customer service team with questions about your order.
---
Recommended Products
[StartProductBlock]
Ward's® Painted Lady Butterflies, Complete Culture Kit
Vanessa cardui butterflies form chrysalides and transform into colorful butterflies right before your eyes. The kit comes with everything you need to raise larvae to adulthood: complete kits, butterfly eggs, live larvae sets, or food and supplies.
[EndProductBlock]
[StartProductBlock]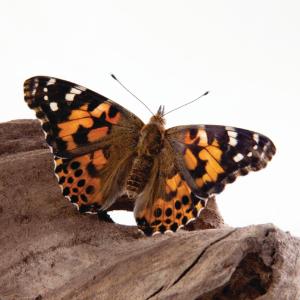 Ward's® Live Painted Lady Butterfly Larvae: Pack of 5
Watch and learn all about the amazing life cycle of a butterfly! Experience the complete metamorphosis of Painted Lady Butterflies from larvae to beautiful adult butterflies.
[EndProductBlock]
[StartProductBlock]
Ward's® Painted Lady Butterflies, Complete Culture Kit
The life cycle of the colorful, widely recognized Monarch butterfly is represented in this large, striking poster. The four stages of metamorphosis: egg, larva, pupa, and adult are depicted in nine vivid, close-up photographs.
[EndProductBlock]