World Teacher's Day: 9 famously successful people who gave thanks to teachers
All of us can recall an outstanding teacher who inspired us, challenged us, opened our eyes to new possibilities. So, every year on October 5, we celebrate World Teachers' Day to show our appreciation and support for all of you who've made such a positive impact on the world.
There's no question that STEM teachers, in particular, spark inspiration, confidence, and develop students' skills that last a lifetime, beyond the classroom. We've even spotlighted a few of you in Ward's World blogs like this one 9 Science teachers put these activities to the test at home.
Many STEM professionals can trace their career choices to influential teachers like you, who ignited their passion for discovery and critical thinking. In recognition of World's Teachers Day, we want to thank you for all that you do to inspire the next generation of STEM professionals to benefit the world with their incredible discoveries and innovations.
Science, technology, engineering, and mathematics have become the foundation of education and innovation worldwide. These nine well known public figures have built famously successful STEM careers. They explain that teachers helped build their self-confidence and talent, which allowed them to become influential innovators.
Read on to find out how teachers made a difference in the extraordinary lives of these former students (well, we never really stop learning).
Stephen Hawking, theoretical physicist, cosmologist, author, and former director of research at the Centre for Theoretical Cosmology at the University of Cambridge.
Hawking said, "At the age of 14, I was inspired by my teacher Dikran Tahta to do mathematics, more mathematics, and physics." Tahta's 2007 obituary in The Guardian said he "inspired love and an increase of intellectual energy in everyone who came within his ambit."
Bill Gates, business magnate, software developer, and philanthropist. He is best known as the co-founder of Microsoft Corporation.
Can you imagine a world without Microsoft? We can thank Gates' teachers for ensuring we never had to find out. Gates is one of the world's most famous dropouts, leaving Harvard to found Microsoft. But he admits that he "wouldn't be where he is today without the guidance of his math and drama teachers growing up." Gates says, "There's no way there would have been a Microsoft without what they did." Bill and his wife Melinda contribute a staggering amount of money to philanthropic causes that include millions to expanding educational opportunities worldwide.
Jocelyn Bell Burnell, astrophysicist, discovered the first radio pulsars widely viewed as one of the most significant scientific achievements of the 20th century.
"My high school physics teacher's name was Henry Tillott…and he had come out of retirement for a second time to teach us. He encouraged us. He let me have the run of the physics laboratory out of hours. He was a really good teacher and showed me, actually, how easy physics was."
Shirley Ann Jackson, physicist and President of the Rensselaer Polytechnic Institute, Troy, New York. The first African-American woman to have earned a doctorate at the Massachusetts Institute of Technology
"My teacher, Mrs. Smith…was relentless in terms of what she wanted us to learn, and her focus on never giving up on high standards. In addition to what she would teach us, she made us teach each other. And so, by teaching, we would understand the concepts."
Bill Nye, "The Science Guy," mechanical engineer, and science educator.
"What is it that…each of us loved about a favorite teacher or professor? I believe it's his or her passion. It was Mr. Lang, my teacher, who loved physics, who got me excited about airplanes, mechanisms, and electronics."
Ernest Rutherford, aka the father of nuclear physics, and awarded the Nobel Prize in Chemistry in 1908.
"Professor Bickerton's genuine enthusiasm for science gave a stimulus to me to start investigations of my own," said Rutherford, after winning the Nobel Prize.
Simon Singh, particle physicist, and science author.
The Simpsons and Their Mathematical Secrets is a 2013 book by Singh that compiles all the mathematical references used throughout the show's run and analyzes them in detail.
"My math teacher had the biggest influence on me. Mr. Stephens taught me for seven years in a row and gave me a love of numbers. He introduced us to Fermat's Last Theorem before we were teenagers," said Singh.
Sylvester "James" Gates, Jr., theoretical physicist, Vice President American Physical Society and formerly, University of Maryland Regents Professor, and served on former President Barack Obama's Council of Advisors on Science and Technology.
Gates Jr. said, "When I was a student at Jones High School, my physics teacher wrote an equation on the blackboard and then performed a very simple experiment--rolling a ball down an inclined plane. He showed that what I saw there in front of my eyes was described by the mathematical equation he had written on the blackboard. This was, and is, the closest thing I have ever seen to magic."
George Lucas, Filmmaker and Founder of The George Lucas Educational Foundation - Edutopia.
"Kids today grow up immersed in a world of digital technology. Information is now freely available to everyone. It's powerful. Digital technology can get information, store information, do calculations and connect people in new ways. Digital technology can do so many amazing things for the learning process, but it can't be human. They were human beings offering encouragement and building confidence, saying things like, "I know you can do this. Come on."
And this is one way in which the world hasn't changed: teaching is still the most important job.
To me, there is nothing more exciting, fulfilling, and wonderful than watching a kid finally grasp a concept, then take the information and use it in the real world.
Teachers make this happen. Teachers motivate. Teachers synthesize information to help students understand. Teachers listen, coach, and mentor. Teachers matter."

Image source: Wikipedia
---
Check out the Grants and Funding Services department at Ward's Science. This free resource helps schools nationwide get awarded thousands of dollars in education grants. Also, our Ward's Plus Us team can help you with things like:
Finding the right products that meet your science standards
Recommending which products to use for a particular lab activity
Demonstrating how to use a product in your classroom
And, much more - just ask!
Our Grants and Funding Services and the Plus Us Team are just a few ways we support the great work you do.
Happy World's Teacher Day!
Recommended products:
[StartProductBlock]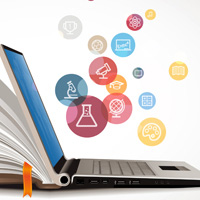 Distance Learning Resources
Free downloads and online resources for at-home learning. Hands-on science kits and materials that are easy to distribute to students for learning at home.
[EndProductBlock]