Demonstrate Oxidation States of Manganese with this Colorful Free Activity Download
Middle and High School
It may not be gold, silver, or platinum, your Cadillacs of transition elements, but manganese is an element worthy of our attention. Manganese is the twelfth most abundant element in the Earth's crust. It helped give rise to oxygen-breathing life forms like humans and has impacted how we built our world.
Oxygen, for the way we breathe
Manganese is an essential element in photosynthesis. Without it, there would be no free oxygen on Earth. Oxygenic photosynthesis gets the electrons needed to generate energy from water, and the process splits water into hydrogen and oxygen ions, which releases oxygen. Photosynthesis that occurred before the Great Oxygenation Event (GOE) relied on manganese.1 The first significant buildup in atmospheric oxygen, the GOE, began in the early Paleoproterozoic when glaciers covered the planet. "Manganese is a central piece of the puzzle in the transition from a world without oxygen to a world dominated by oxygen," Usha Lingappa, researcher, Div. of Geological & Planetary Sciences, California Institute of Technology. Lingappa explains how manganese chemistry also provided an early antioxidant system that was key to how life came to cope with oxidative stress and thrive in an aerobic world.2 Thanks to manganese, we can all breathe a little easier.
Steel, for the way we build
Without manganese, say goodbye to the steel industry as it accounts for 90 percent of the element's consumption globally.3 Manganese increases the hardenability and tensile strength of steel. It can also decrease the critical cooling rate during hardening, which increases the steel's hardenability much more efficiently than any other alloying element. Manganese can also increase the rate of carbon penetration during carburizing (a heat treatment process where the steel absorbs carbon while the metal is heated to make it harder) and acts as a mild deoxidizing agent. Andrew Carnegie, the Godfather of the 19th-century steel industry, surely held a special place in his heart for manganese.
You can introduce students to this consequential element with our colorful lab activity that demonstrates the various oxidation states of manganese. The chemical rainbow is a fascinating color-change chemistry demonstration that illustrates redox reactions. The color change runs from purple to green to brown to violet/rose and to clear.
Download the Colors of Manganese Ions activity:
Download lesson

It's a great way to get students interested in learning more about the essential role elements have played in our planet's evolution.
---
References: 1. Astrobiology at NASA: How Manganese Played a Pivotal Role in Photosynthesis and Oxidation Protection. 2. Science Direct: How manganese empowered life with dioxygen (and vice versa), Usha F. Lingappa, et al. 3. USGS Science for a Changing World. 3. Effects of Mn, P, S, Si & V on the Mechanical Properties of Steel
Recommended products:
[StartProductBlock]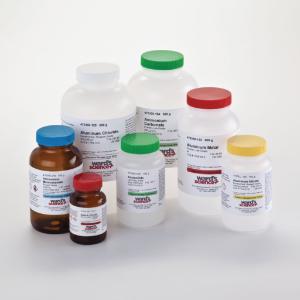 Manganese
Laboratory grade. Carbon-free.
[EndProductBlock]
[StartProductBlock]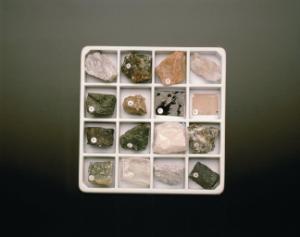 Minerals of the Earth's Crust Collection
Set includes the elements and minerals that make up the Earth's crust. Sixteen numbered samples: actinolite, albite, anorthite, augite, biotite, calcite, chlorite, diopside, dolomite, hornblende, kaolin, magnetite, microcline, muscovite, olivine, quartz.
[EndProductBlock]
[StartProductBlock]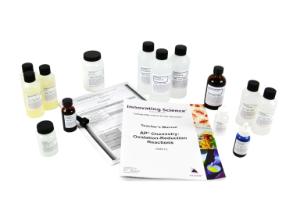 Oxidation-Reduction Reactions
Students run three experiments where a compound, which is colorless in solution when reduced, is converted to a colored solution when oxidized. Students write the complete balanced reactions for each step showing the transfer of electrons during oxidation and reduction.
[EndProductBlock]
[StartProductBlock]
Introduction to Oxidation/Reduction (Redox) Student Activity
Students place pieces of zinc, lead, and copper in solutions of metallic ions to test their relative reducing ability. Then, they compare and determine the relative oxidizing strength of certain halogen elements: chlorine, bromine, and iodine.
[EndProductBlock]
[StartProductBlock]
Potassium Permanganate
[EndProductBlock]
[StartProductBlock]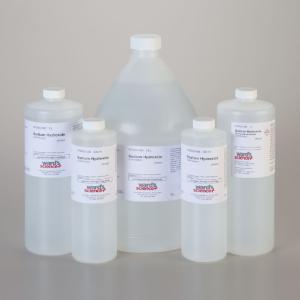 Sodium Hydroxide
[EndProductBlock]
[StartProductBlock]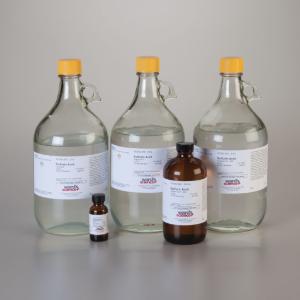 Sulfuric Acid
[EndProductBlock]