Top 10 Geology Specimen Key Card Activities For Your Class
Middle and High School
You read that right, the Ward's Science team put together an epic Top 10 list of ways to use our Geology Specimen Key Cards in the classroom. We've left no stone unturned when we put together this little gem! Even the most hardened stoney-faces in your class will brighten up when presented with the fascinating world of igneous, sedimentary, and metamorphic rocks.
Ward's Geology Specimen Key Cards provide extensive background information for rocks and minerals. Use the cards for additional facts and information for your lessons and take-home study or homework assignments.
Download the free Geology Specimen Key cards, then dig into the activity list below to find a few that align with your lesson plan and students' interests.
Rock and Mineral Bingo - This 'Bingo' is based on knowledge and skill (not luck). It's an entertaining and interactive way to develop and improve rock and mineral identification skills. Instead of looking for a specified value on their board, students will be questioned on geological topics. Students must then determine and find that answer on their board, using thought and inquiry, as they work to get a bingo.
Study aide as flashcards - Help students engage in active recall and learning by stimulating memories and creating rock-solid connections to the material. The cards incorporate images and words to help improve students' active recall

Scavenger Hunt and Identification

– students identify and observe various geological features and try to find the rocks on the cards in their pile. Your lesson plans can help them understand which rock's are likely to be found in the hunt locations.
Virtual Field Trip – Have kids find places around the world where they can find the specimens from the cards in their pile.
Discover a new, real-world use for the rock or mineral based on its characteristics
Heads-up - Make a version of the hilarious "heads-up" game – where someone sticks the card on their head and the other person gives clues to help them guess the right rock or mineral.
Rock Art - 3-D Rock and Mineral Models - Make a project to create a giant Geology specimen display. Students glue or Velcro real specimens to cards pasted on poster board or add a 3-D element by creating the tiles on pizza boxes.
Superhero or Villain Geology Comics - Students learn more about the characteristics of each mineral or rock, then decide whether it's a superhero—or a villain! Describe why.
Rock Stars! - Students match famous researchers or geologists who found practical applications for specific rocks or minerals.

Geology Jeopardy

- use this popular game format to review the geology material and keep students involved. You'll need to do some prep work, but your students will benefit from using teamwork to explore rocks and minerals through interactive play.
Basic Rules
Divide students into four or five teams.
Teams choose a topic category and a question associated with a specific dollar amount ($100, $200, $300, etc.) or points, e.g., 'We want igneous rocks for 300.'
Give teams one minute to answer their selected question. Teammates must collaborate before answering.
If the answer is correct, the team gets the amount of 'money' the question was worth.
If the answer is incorrect, the question stays up on the board.
Play goes back and forth between teams, whether or not the answer is correct. Taking turns allows each team more opportunities to participate throughout the game.
The game continues until the teams have selected all amounts under each category and correctly answered questions.
The team with the most points wins!
Download the free Geology Specimen Key cards to help crystalize your lesson plans.
---
Recommended Products
[StartProductBlock]
NewPath® Earth Science Learning Centers
Engaging, ready-to-use learning centers for review of standards-based topics.
[EndProductBlock]
[StartProductBlock]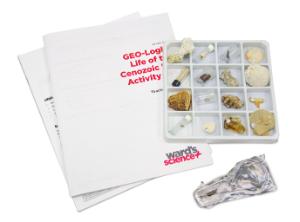 Mineral and Rock Identification Collection #2
High-quality mineral and rock specimens, unnumbered so students can learn to identify them.
[EndProductBlock]
[StartProductBlock]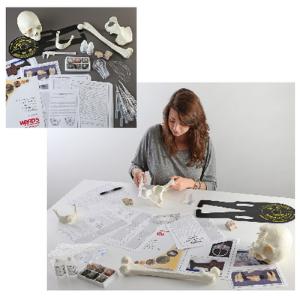 Ward's® New York Vikings: A Lab Activity in Forensic Anthropology and Geology
Use forensics to analyze multiple lines of anthropological, archaeological, and geological evidence from human bone replicas, artifact photos, and rocks.
[EndProductBlock]